What can happen if you don't seek  Trigger Finger Treatment ?
Unfortunately, most patients do not seek trigger finger treatment or trigger thumb treatment until the symptoms have already progressed.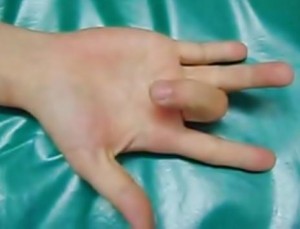 The biggest risk factor for the patient who does not seek trigger finger treatment is probably the possibility of the development of a fixed contracture, or bend, of the finger.
Often if there is severe pain and locking, a person may avoid moving the involved finger altogether. After a period of time when there is no movement at a joint, the finger can become locked in a bent or straight posture and.tenosynovitis treatment is required.
Simple trigger finger treatment exercises may then not be sufficient to restore movement.
Stretching, ice, and anti-inflammation treatments can be helpful. Medications that have been used include naproxen, ibuprofen, diclofenac, and others.
The most rapidly effective trigger finger treatment is a local cortisone injection around the affected tendon. Most patients will respond to the cortisone injection.  The reported success rate of this trigger finger treatment injection with with 1 injection is approximately 50% and with 2 consecutive injections 75%. When a trigger finger persists after two injections and is not responsive to the above treatments, surgical procedures to ultimately remove the inflamed or scarred tissue are considered.
A Hand Therapist may help:
A hand therapist is an occupational therapist or physical therapist who, through advanced study and experience, specializes in treating individuals with conditions affecting the hands and upper extremity. A hand specialist may also have advanced certification as a Certified Hand Therapist (CHT).
Hand therapists may see a patient with trigger finger for conservative, or non-surgical, management or for post-surgical rehabilitation. Conservative treatment may include fabrication of a trigger finger splint and instruction in appropriate finger exercises.Your hand therapist will also educate you regarding precautions and ways to modify everyday activities so as not to aggravate the condition.
Trigger finger treatment may also include:
Techniques to decrease inflammation including heat, cold, ultrasound, phonophoresis (the delivery of medicine into the tissue by ultrasound), or iontophoresis (the delivery of medicine into the tissue by electricity).
Your hand surgeon may also refer you to a hand therapist following surgical release. Therapy is generally initiated within the first week following surgery.Your hand therapist will address care of the wound, show you techniques to decrease swelling, and instruct you in exercises to restore full motion.
Again, your hand therapist may use forms of heat and cold to address problems of pain, stiffness, and swelling. Your therapist will provide you with ongoing education regarding functional use of the affected hand. Exercise programs are individual but several precautions are standard for treatment of trigger finger.You should avoid repetitive fisting, especially with a ball or putty. Maintaining a firm grip and exerting pressure over the palmar (palm-side) base of the finger are also discouraged as part of trigger finger treatment.
For further information on trigger finger treatment please visit:
The Trigger Finger and Thumb Guide
TriggerFingerSymptoms.com is a participant in the Amazon Services LLC Associates Program, an affiliate advertising program designed to provide a means for sites to earn advertising fees by advertising and linking to Amazon.com, 
Links on this trigger finger treatment page are sponsored affiliate links and the owner makes commission if you buy after clicking these links. The owner is not a bona-fide user of this product. However, he has thoroughly researched it and provided a personal opinion only. This disclosure is in accordance with the Federal Trade Commission's 16 CFR, Part 255: "Guides Concerning the Use of Endorsements and Testimonials in Advertising."
Tagged with: natural treatment for trigger finger • treatment for trigger finger • treatment of trigger finger • trigger finger cure • trigger finger treatment options
Filed under: Trigger finger treatment